Ontwikkelaar:
SHAPE Services
IMPlus Chat met bekroonde IM + & reg; binnen AIM & reg; / iChat, MSN & reg; / Windows Live & trade; ! Messenger, Yahoo & reg ;, ICQ & reg ;, Jabber & reg ;, Google Talk & trade ;, MySpaceIM, Facebook & reg; en zelfs Skype & trade; *, ongeacht de locatie en de mobiele operator. Nu met Twitter * steun!

Geen kosten per bericht!


Belangrijkste kenmerken

Communiceer met al je vrienden in één vriendenlijst, deel uw bestanden en foto's.

Opnemen en verzenden van spraakberichten.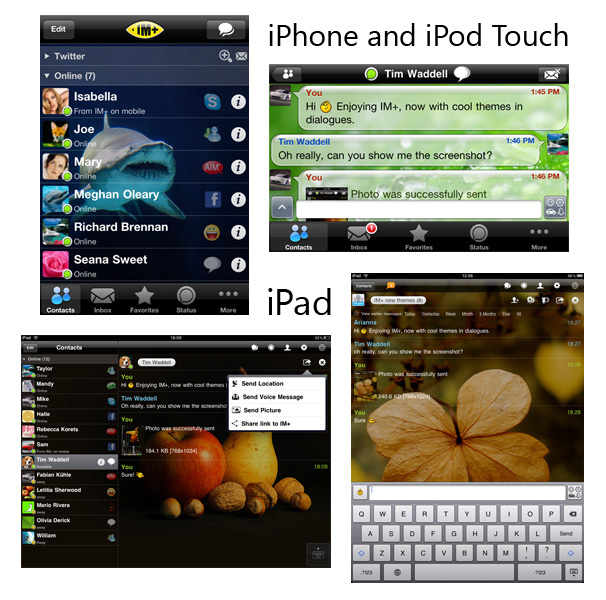 Invite your friends to MSN, Skype, AIM, and ICQ group chat and enjoy conversation!
Follow your friends on Twitter, view timeline, favorites, direct messages and replies, and post pictures and voice messages to your own timeline!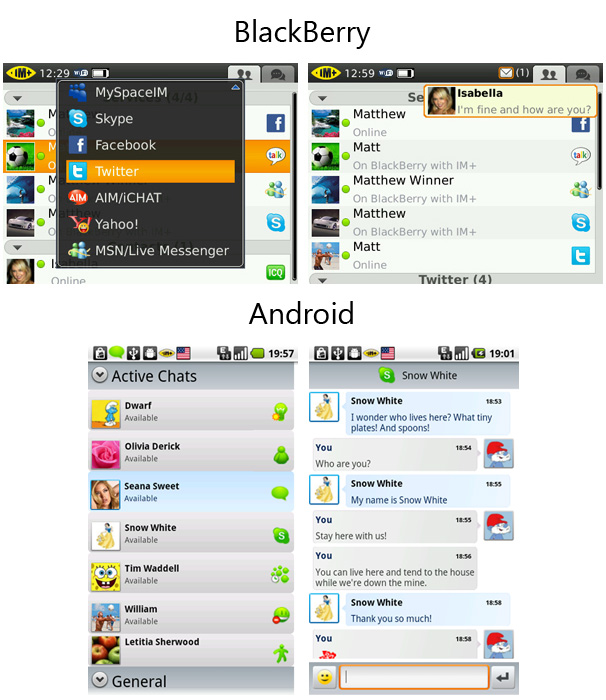 New! Full BlackBerry OS 6 support!
New! Now you may also access your Blackberry IM history in IM+ Web Messenger at https://plus.im from your desktop computer.
Send your current location to your contacts while chatting or as a status message!
Built-in browser.
IM+ is available for iPhone/iPod Touch/iPad, BlackBerry, Android, Java MIDP 2.0 and Symbian S60 smartphones.